Lynnwoods DCDG Storm
Storm is the newest member of the Lynnwood Family. She is a black female that is smart, playful, beautiful and is a pleasure to train. She is focused when needs to be and loves to play, have fun and be with you. 
She is the true example of the breed.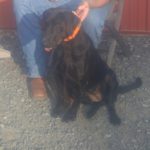 When it comes to Storms' training, is is all work and extensively focused.
  As you can see Storm is a playful, fun Labrador Retriever.